[ARCHIVED CONTENT - WE CLOSED OUR PRIVATE COMMUNITY IN JULY 2017]
You've already taken the first big step to joining our community, where we're focused on becoming better Engineering Leaders.
Thank you, and welcome!
---
Our community mission
We've created a by-invitation-only membership organization focused exclusively on the leaders of Software Engineering teams.
Think of our community as a Peer Advisory Group. As your engineering peers, we share your daily challenges and goals. That's why we differentiate ourselves by allowing ONLY your peers into our group.
We offer a space to collaborate, share advice and learn from experts (and each other), in confidence - because every member of our community is protected by a Mutual Non-Disclosure Agreement (NDA).
---
Inside the community today
Forums
Dozens of private forums for in-depth discussions of questions you can't ask anywhere else.
Legally Protected Conversations - Every member signs our Mutual Non-Disclosure Agreement, so we can share stories, ask questions and offer advice in confidence.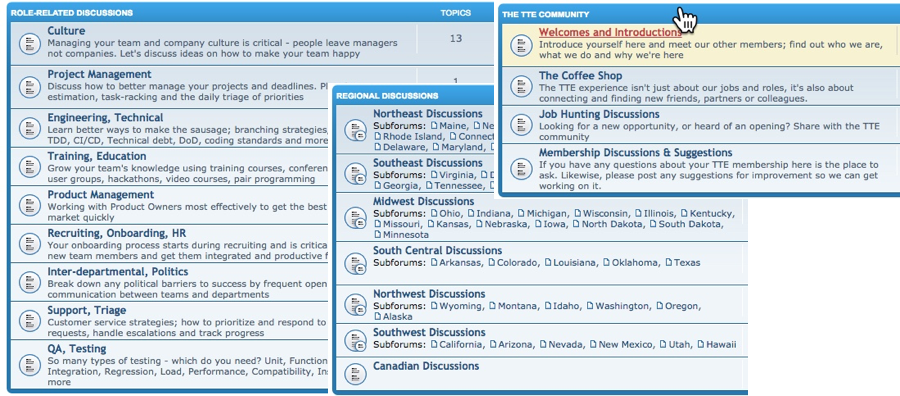 Slack
Jump onto private Slack channels to ask a quick question, chat or share news.
You'll belong to a group where you can comfortably relax and socialize with new friends and peers.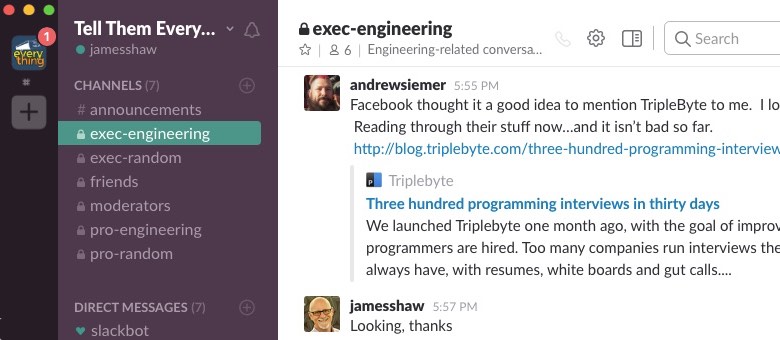 Weekly calls
Video conferencing each week for discussing hot topics, Q&A and meeting other members
Supports up to 50 attendees joining with video streaming and screen sharing

Coaching
Optional monthly one-on-one leadership coaching and mentoring sessions with one of our Engineering Executives - there are no generic coaches here.
Build an ongoing relationship with a peer who has expertise and personal knowledge of your role - and who can hold you accountable to your goals.
Meet two of our coaches
James Shaw
Long-time software engineer, project manager, Engineering Director/VP and passionate builder of great teams.


Scott Dockendorf
Six-time Engineering Director/VP and company founder, enthusiastic about continuous improvement.

---
Membership levels
Today our community is focused exclusively on today's Engineering Directors and VP's. There are just two levels - with one-on-one leadership coaching or without.
Discounts
Annual plans receive three months free for a 25% discount.
NGO, Educator and Veteran members receive 50% discount on our standard rates.
Your recurring subscription can be cancelled at any time.
== FOUNDING MEMBER SPECIAL RATES BELOW - Subscribe now and lock into these discounted rates forever. Expires 3/31 ==
Level
For
Benefits
Monthly
Executive
Engineering Directors & VP's
Exclusive Executive Slack channels, Forums, Weekly calls, Local meetups and more to come
$149
$79
Executive+
Engineering Directors & VP's
As above, plus 1 hour/month personal leadership coaching from your dedicated Engineering Executive Coach
$299
$179
---
The application process
Our application process is very simple, but we do have minimum membership requirements and require all members to sign a Mutual NDA.
Here's what to expect:
The form below is the first step, where you enter your information and choose your membership level.
Next, we verify that your LinkedIn profile matches our desired membership profile
We ask you to electronically sign our Mutual Non-Disclosure Agreement to protect yourself and other members
Finally we ask for payment according to your membership level
You're in! You'll receive welcome emails with details how to login to our community Slack, Forums, video calls and more.
---
STOP! Before you continue..
This isn't intended to be a carefully-crafted sales funnel, pushing you quickly down to the 'make a sale' button.
We want to put our relationship first, just like when leading our software teams. Feel free to click around the site, read some articles and get to know us, or check our Frequently Asked Questions (some good information there).
Lastly, don't hesitate to email support@tellthemeverything.com for a fast response to any question or comment.